Mincemeat Tarts With Pastry Stars Recipe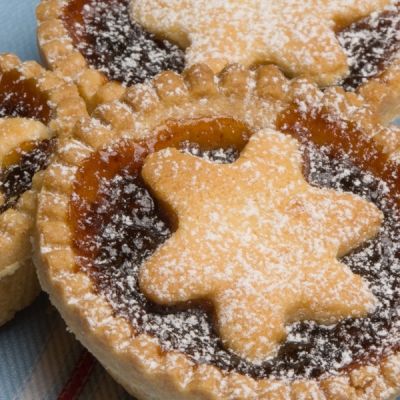 A Very Delicious recipe for mincemeat tarts with cookie cutter pastry on top.
Ingredients
Pastry
2 cups all purpose flour
1/3 cup almond meal
1/3 cup confectionersí sugar
1 cup chilled butter, cubed
1 egg yolk
1 Tablespoon cold water
Filling
3 cups dried mixed fruit
1/3 cup brandy
1/3 cup golden syrup
1/3 cup light corn syrup
1 teaspoon mixed spice
1/8 teaspoon ground cloves
Directions
Place the flour, almond meal, confectioners sugar and butter in the bowl of a food processor and process until mixture resembles crumbs.
Add egg yolk and water, until mixture just comes together.
Turn onto a lightly floured surface and knead until smooth. Wrap in plastic wrap and place in the fridge for 30 minutes.
To make the filling, place all filling ingredients in a saucepan over low heat and stir until combined. Increase heat to medium-high and bring to a boil. Reduce heat and simmer, stirring, for 10 minutes or until mixture thickens. Remove from heat.
Preheat oven to 350 degrees F.
Use a rolling pin dusted with flour to roll out pastry until 3mm thick. Use a round tart cutter to cut 24 discs from pastry. Place each into a tart tin.
Roll out leftover pastry until 3mm thick. Use a star-shaped cutter to cut 24 stars from pastry. Spoon filling evenly between pastry cases. Top with a star.
Bake for 20 minutes or until golden. Remove from oven and set aside in pans for 5 minutes. Transfer to a wire rack to cool. Dust with icing sugar.