Mini Cheesecake With Berries For Two Recipe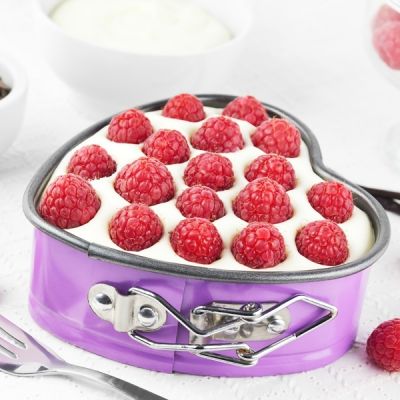 A Delicious recipe for a small cheesecake with whipped topping and berries, This is a perfect dessert to share for two people.
Ingredients
Crust
1/3 cup graham cracker crumbs
1 Tablespoon sugar
Cheesecake
1 Tablespoon butter, melted
1 package (8 oz. each) cream cheese, at room temperature
1/4 cup sugar
1/2 teaspoon vanilla extract
1 eggs
Topping
1/4 cup heavy cream
1/4 cup raspberries
Directions
Preheat oven to 350 degrees F. Have ready a 4-5 inch springform pan.
Mix crumbs, sugar and butter; press mixture onto bottom of springform pan.
Bake for 7 minutes.
Mix cream cheese, sugar and vanilla with a stand or hand mixer on medium speed until well blended. Add egg, mixing just until blended.
Pour the batter over crusts. Place pan on cookie sheet.
Bake for 30-35 minutes or until center is almost set. Run knife or metal spatula around rim of pan to loosen cake, no not remove cake from pan.
Refrigerate 4 hours
Just before serving. Whip cream until stiff peaks form, Spoon whipped topping onto cake and spooth flat. Arrange berries over top. Unmold cake from pan to serve.