Mini Cinnamon Rolls Recipe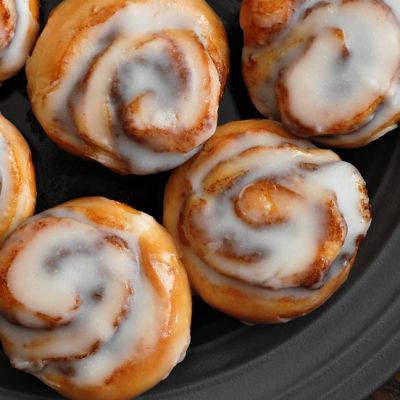 This mini cinnamon rolls recipe is perfect for little helpers.
Ingredients
2 cups all purpose flour
1 Tablespoon baking powder
1 teaspoon salt
1/3 cup butter (cubed)
3/4 cup milk
1/4 cup granulated sugar
1 Tablespoon ground cinnamon
2 Tablespoons melted butter
Icing
1 teaspoon butter, melted
1 cup confectioners sugar
1/4 cup milk
12 to 16 rolls
Directions
Preheat oven to 350F
Grease 2 - 9 inch round pans.
Whisk together flour, baking powder, and salt. Add butter and milk, and mix until well incorporated and a dough has formed.
On a floured surface roll out dough to about as thick as your thumbnail, and in rectangular shape.
In a small bowl, whisk together sugar and cinnamon.
Brush melted butter over dough, and spread cinnamon sugar over melted butter.
Roll up dough, cut the ends of the roll. Cut into 1 inch pieces and put into prepared pan, leaving a bit of space for growth. Should be able to fit 8 rolls.
Bake for about 20 minutes
Icing
Mix together melted butter, sugar, and milk, Until a thin consistency.
Pour over baked cinnamon buns