Mini Heart Marshmallow Cakes Recipe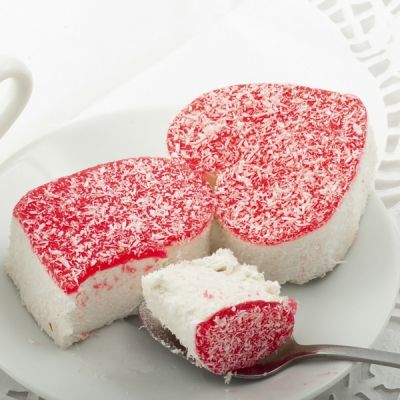 A very pretty mini heart marshmallow cakes recipe.
Ingredients
1/2 cup coconut
1/3 cup gelatin, plain
1 cup cold milk
4 cups granulated sugar
1 cup hot milk
1 Tablespoon Vanilla
1 package strawberry jello
Directions
Grease a 9x13 inch baking dish.
Sprinkle a layer of Coconut on the base.
In a small pot, sprinkle the gelatine over the cold milk, wait until it becomes spongy.
Heat just enough for the Gelatine to dissolve.
Pour into a large mixing bowl, add the Sugar, hot milk and Vanilla.
Mix with an electric mixer for 10-15 minutes until it turns white and thickens.
Pour into the prepared cake pan
Chill for 2 hours.
Prepare the strawberry jello as to package directions, Let cool then pour gently over cold cake.
Let set atleast 1 hour.
Sprinkle with coconut topping.
Once totally set, use a deep cookie cutter to cut cake into shapes.