Mini Pizza Rolls Recipe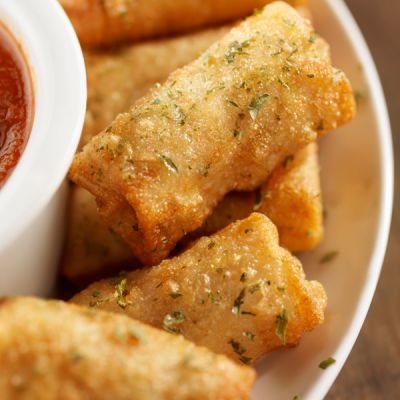 Make your own pizza rolls. We are using ham and pineapple in these, but you can substitute your favorite pizza flavors in the middle.
Ingredients
1 cup grated mozzarella cheese
1/4 cup ham
1 Tablespoon crushed pineapple, drained
2 Tablespoons spaghetti sauce
20 wonton wrappers
Directions
Grind ham or chop very fine.
Mix together ham, pineapple, and cheese in a bowl.
Add just enough spaghetti sauce to let the ingredients stick together.
Place a wonton wrapper on the table with one corner facing you.
Place 1-2 teaspoons filling on wrapper, just above the corner.
Wet edges of wonton slightly.
Fold corner facing you over filling, then overlap right and left corners over the top.
Roll up and press slightly to seal.
Deep fry in hot oil just until golden. This only takes about 30 seconds. If you leave them too long they will burst.
Drain on paper towels.
Serve with pizza dipping sauce.