Mixed Berry Pie Recipe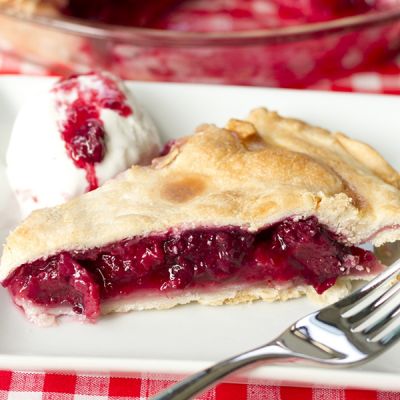 This mixes berry pie recipe uses frozen mixed berries and an easy to prepare homemade crust. Delicious with a scoop of ice cream.
Ingredients
Pie Filling
1 (12 ounce) bag frozen mixed berries
1 cup granulated sugar
3 Tablespoons cornstarch
Crust
2 cups all purpose flour
1 cup butter, cold and cut into chunks
1 teaspoon salt
ice water
Directions
Filling
Remove the frozen berries from the freezer and pour them into a large bowl. Let them sit for 20 minutes to partially defrost.
Crust
Preheat oven to 375 degrees F.
You will need a 9inch pie pan.
In a large bowl, combine the flour and salt.
Add the butter and cut in with a pastry knife or with two knives.
Add about 1/8 cup of ice water and mix in.
Add more water one tablespoon at a time until dough holds together and you can form a ball.
Cut the ball in half.
To roll out, sprinkle 1/4 cup of little flour onto your flat working surface.
Place the first ball on the flour, flatten to form a disk, then flip over. You want to evenly coat both sides with flour.
Use a rolling pin and lightly from the center and work your way around the disk to form a pie sized circle.
Sprinkle the flour on top of the dough if your rolling pin starts sticking.
When the circle is slightly larger then your pie pan, roll the crust up onto the rolling pin to transfer to the pan.
Pour the sugar and cornstarch mixture over berries and gently mix the pour the fruit into then pour the fruit into the prepared pie crust. The berries will cook down so don't be concerned if it seems like a lot of berries. Heap the berries in the center of the pie rather than making them level.
Roll out the second ball of dough using the same method as for the crust until it is large enough to make a lid. Place the crust onto the pie, pinch the edges so the are sealed and use a knife to cut some vents in the top.
Place into the preheated oven on the middle rack and bake for 50 minutes.
The pie may leak over, so if you want, you can put a piece of aluminum foil on the next rack down, under the pie to catch any possible drippings.
Remove and place the pie onto a cooling rack to cool.
Let the pie cool for at least an hour so it sets up before you slice into it.
Great served with ice cream.