Mocha Cake With Dark Chocolate Sauce Recipe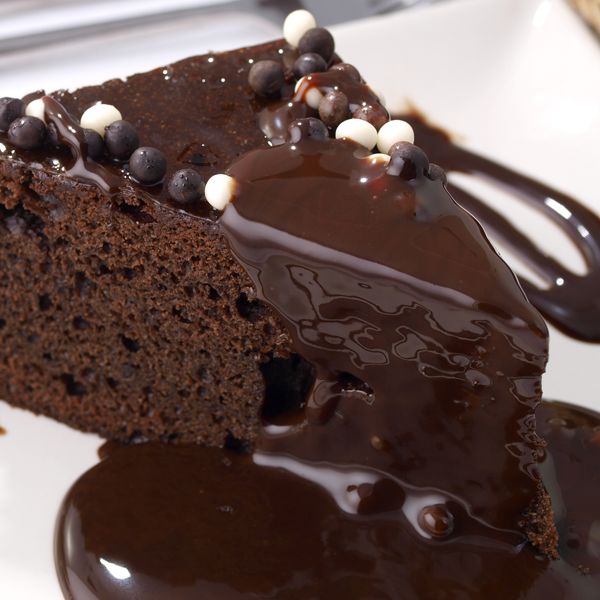 A Yummy Mocha cake recipe, served with a delicious dark chocolate sauce.
Ingredients
Mocha Cake
2 cups plus 2 Tablespoons granulated sugar
1 3/4 cups all purpose flour
3/4 cup cocoa powder
1 1/2 teaspoons baking powder
1 1/2 teaspoons baking soda
1 teaspoon salt
2 large eggs
1 cup whole milk
1/2 cup canola oil
2 teaspoons vanilla extract
1 cup hot black coffee
Glaze
1/2 cup light corn syrup
1 cup chocolate chips
2 Tablespoons butter
1 teaspoon instant coffee grounds
1 teaspoon vanilla extract
Pinch of salt
Ganache
8 ounces dark chocolate, chopped
3/4 cup heavy cream
1 teaspoon vanilla
Directions
Cake
Pre-heat the oven to 350°F.
Grease and lightly flour a 9 inch round cake pan.
Combine all of the dry ingredients in a mixer. In a separate bowl, whisk the eggs with the milk, oil, and vanilla extract.
Slowly add the liquid mixture to the dry mix until just combined. Beat at a medium speed for 2 minutes. Add the hot coffee until just combined. Pour cake batter into pan. Bake for 35-45 minutes until a toothpick inserted in the center comes out clean. Let fully cool.
Glaze
Combine all glaze ingredients in small saucepan over low heat. Cook and stir until melted and smooth. Smooth over cooled cake, chill.
Ganache
Combine chocolate chips and heavy cream over medium heat. Bring to a boil, then remove from heat and stir in vanilla, let cool just to warm then top each serving with the ganache.