Mocha Cake With Orange Cream Cheese Filling Recipe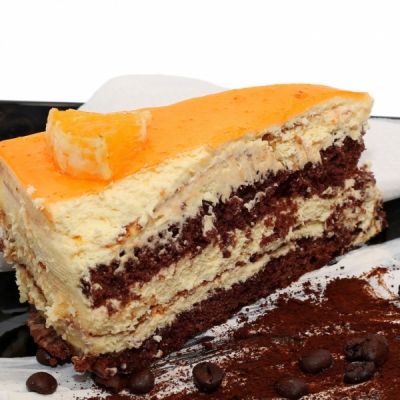 A rich moist Mocha Cake recipe layered with zesty Orange Cream Cheese Filling
Ingredients
Makes (2) 9-inch round cakes
MochaCake
2 cups all purpose flour
2 cups granulated sugar
2/3 cup unsweetened cocoa powder
2 teaspoons baking soda
1/2 teaspoon salt
1 teaspoon baking powder
1/2 cup vegetable oil
2 eggs
1 cup buttermilk
1 cup brewed coffee
Orange Whipped Cream Cheese Filling
16 oz. cream cheese, at room temperature
4 cups confectioners' sugar
1/3 cup orange juice
zest of 2 oranges
2 cups of heavy cream
Orange GlazeTopping
2/3 cup orange marmalade
1-2 teaspoons water
Garnish
small orange slices
Directions
Mocha Cake
Pre-heat the oven to 350°F.
Grease two (9 inch) round cake pans and line them with parchment paper cut to fit.
In a large bowl whisk together the flour, sugar, cocoa powder, baking soda, salt and baking powder.
In a mixing bowl use an electric mixer to beat together the oil, eggs, buttermilk, and coffee.
Add the flour mixture to the wet mixture and beat on medium speed for 2 minutes until smooth. The batter will be thin. Pour into prepared cake pans and place into the preheated oven.
Bake for 30 to 35 minutes or until a toothpick inserted in the center comes out clean.
Remove from the oven and place the pans on cooling racks for 10 minutes. Remove the cakes from the baking pans and finish cooling the cakes on wire racks.
While the cake is cooling, to make the orange cream cheese filling.
Orange Cream Filling
Place a medium size glass or metal bowl into the freezer for 15 minutes. This will be the bowl you make the whipped cream in.
While the bowl is chilling, place the cream cheese into another mixing bowl and use and electric mixer on medium to beat until creamy. Add the confectioners' sugar and beat until smooth.
Mix in the orange juice and orange zest and set aside.
Using the chilled bowl from the freezer, pour in the heavy cream. Use clean beaters to whip the cream until it forms stiff peaks.
Fold the whipped cream into the cream cheese mixture gently
by hand until well combined.
Place one layer of the cake onto a cake plate and spread on a generous portion of the orange cream filling.
Place the 2nd layer of cake on top. Spread the rest of the orange cream cheese frosting onto the top and sides of the cake.
Place the cake into the refrigerator.
Orange Glaze
Heat together marmalade and water in small saucepan over medium heat until liquid. When cool enough to touch, spoon the glaze over the cake.
Spread out evenly with spatula to cover top.
Refrigerate the cake for at least an hour before cutting and serving.
Garnish with orange slices.
Keep cake leftovers refrigerated.