Mocha Chocolate Cake Recipe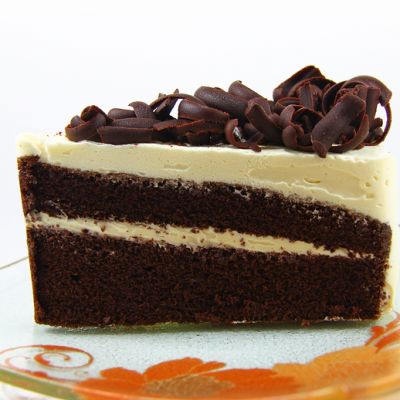 This mocha chocolate cake uses simple ingredients and make one small cake that you slice in half, frost and fancy it up with chocolate curls.
Ingredients
1 1/2 cups all purpose flour
1 cup granulated sugar
1/2 cup cocoa powder
1 1/4 teaspoons baking soda
3/4 teaspoon baking powder
1/2 teaspoon salt
3/4 cup brewed coffee, cooled
1/2 cup milk
1/3 cup corn syrup
1 egg
Makes one 9x9 inch round cake
Butter Frosting
3 tablespoons butter, at room temperature
1/2 teaspoon pure vanilla extract
A few grains of salt
2 cups sifted confectioners' sugar
2 to 2 1/2 Tablespoons cream or milk
Chocolate Curls
4 cups Melting chocolate wafers (White, Dark, or Milk)
or
A fairly big chunk of melting chocolate (about 1x4 inches) or big enough to safely handle while using a knife)
* You can usually find these in the bulk section of most grocery stores
Directions
Preheat oven to 350 degrees F.
Line a 9 inch round cake pan with parchment paper and grease the parchment paper with butter.
In a bowl, sift together the flour, sugar,cocoa powder, baking soda, baking powder and salt.
In a large bowl stir together the cooled coffee, milk corn syrup, and egg.
Using an electric mixer, beat the dry ingredients into the wet until combined.
Transfer into the prepared baking pan and place into the preheated oven.
Bake for 35-40 minute or until a toothpick inserted in the middle comes out clean.
Remove and place the cake pan onto a cooling rack. Let sit for 10 minutes, then transfer the cake out of the pan onto the rack. Remove the parchment paper and place the cake topside up. Let cool completely before frosting.
Butter Frosting
Cream the butter.
Beat in the vanilla and salt.
Blend in the icing sugar alternately with the warm milk or cream.
Beat until smooth and a good spreading consistency. Add more sifted icing sugar or milk if necessary.
Assembly
Once the cake has cooled, slice in half.
Place one layer onto a cake plate and put a layer of frosting. Place the top layer of cake and frost the top and sides.
Garnish with Chocolate Curls
Chocolate Curls
If using melting chocolate you will need to melt these down in a double boiler, or with a pot filled with water and a bowl that can rest on top of it. Use low heat when doing this.
When chocolate is melted pour into a small container (a small Tupperware, or glass container) lined with parchment paper, so that you can make a little brick of chocolate. Let this set, until chocolate has hardened up.
Now whether your using a big chunk, or the brick of melted chocolate. Take a straight edged knife, and with a bit of pressure, drag knife across the chocolate. It should curl and flake off.
Tip: Be sure not to handle chocolate too much as it will start to melt in your hands.