Mocha Cream Frosted Deep Dark Chocolate Cake Recipe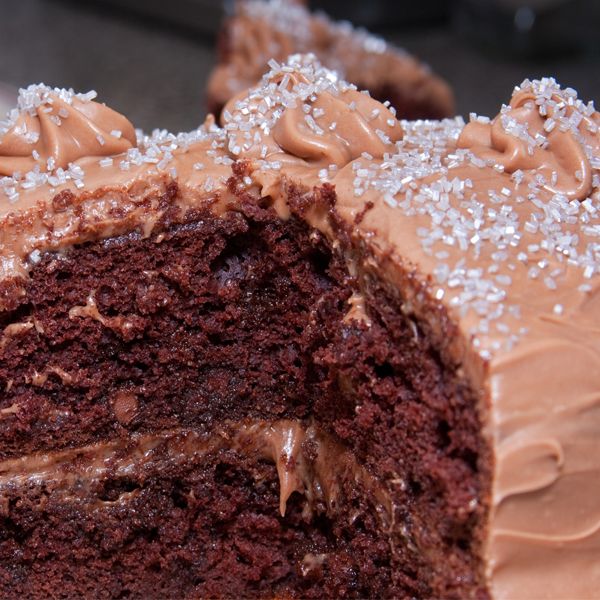 A very yummy recipe for deep dark chocolate cake topped with a mocha cream frosting.
Ingredients
Cake
2 cups granulated sugar
1 3/4 cups all-purpose flour
3/4 cup Cocoa powder
1 1/2 teaspoons baking powder
1 1/2 teaspoons baking soda
1 teaspoon salt
2 eggs
1 cup milk
1/2 cup vegetable oil
2 teaspoons vanilla extract
1 cup boiling water
Mocha Cream Frosting
6 tablespoons butter, softened
2 2/3 cups confectioners sugar
1/4 cup Cocoa powder
2 teaspoons powdered instant coffee or espresso
3 to 4 tablespoons milk, heated slightly
1 teaspoon vanilla extract
Directions
Heat oven to 350 degrees F. Grease and flour two 9-inch round baking pans.
To make the cakes. stir together dry ingredients in a large bowl. Add eggs, milk, oil and vanilla extract;
Beat on medium speed of electric mixer 2 minutes. Stir in boiling water. Pour batter into prepared pans.
Bake 30 to 35 minutes or until wooden pick inserted in center comes out clean. Cool 10 minutes; remove from pan to wire racks.
To make the frosting. In a small bowl disolve coffee in warm milk. In a large mixing bowl beat the butter, sugar and cocoa. once fully mixed add coffee mixture and vanilla to mixing bowl. beat until fluffy.
When cakes are completely cooled place one on a serving plate. top with a layer of frosting then the other cake layer, top with remaining frosting and smooth over the top and sides. Chill until ready to serve.