Mocha Layer Cake Recipe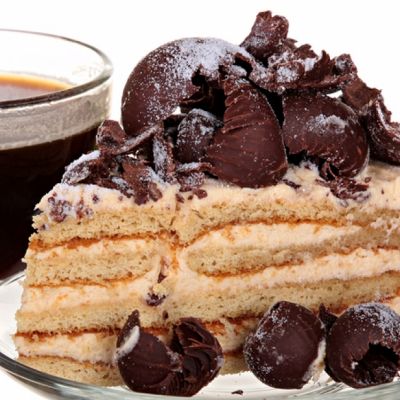 This recipe for mocha layer cake is a basic maple white cake layered with mocha frosting.
Ingredients
Cake
1/2 cup butter, softened
1/2 cup packed brown sugar
1/2 cup all purpose flour
1/2 cup graham cracker crumbs
3 large eggs, beaten
1 teaspoon baking powder
2 Tablespoons whole milk
2 Tablespoons maple syrup
Frosting
1 1/2 cups butter, at room temperature
3 cups confectioners' sugar
4 Tablespoons cocoa powder
2 teaspoons pure vanilla extract
2 Tablespoons instant coffee, dissolved in 1 Tablespoon water
Garnish
*Chocolate curls
*Confectioners' sugar
Directions
Cake
Pre-heat oven to 350F.
Grease and flour two 9"(20cms) round cake tins.
In a large bowl, beat the butter and sugar together until light and fluffy, about 5 minutes using a hand-held mixer.
In a separate bowl, combine flour, graham cracker crumbs and baking powder.
Add eggs, milk and maple syrup to the butter and sugar and gently mix until smooth.
Slowly add the flour mixture to the wet ingredients, and blend thoroughly.
Pour the cake mixture evenly into the prepared cake tins and bake for about 30 minutes, until fork stuck in the centre comes out clean.
Remove and let cool at least 30 minutes before slicing.
Frosting
Using an electric mixer, beat the butter until creamy.
Add the confectioners sugar and beat in.
Beat in the cocoa powder, vanilla & dissoved coffee.
Continue to beat the frosting for about 2 minutes until creamy smooth.
This recipe make a frosting that has a good spreading consistancy.
If you want the frosting stiffer, refrigerate for 10-15 minutes.
Assembly
Slice the cakes horizontally so you have 4 layers total. Place bottom layer onto a serving plate. Spread 1/4 of the frosting. Repeat until all layers are frosted.
Garnish with chocolate curls and sugar before serving.