Moist Chocolate Cake Recipe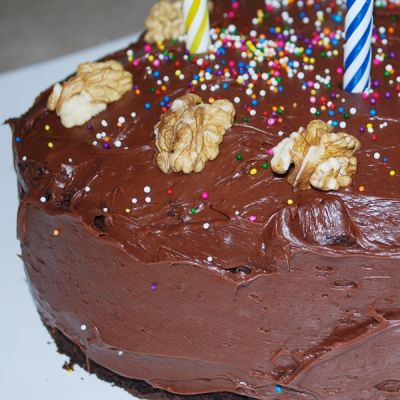 A very yummy recipe for moist chocolate cake with a raspberry filling and sweet chocolate frosting.
Ingredients
Cake
2 cups all purpose flour
2 cups granulated sugar
1 1/2 teaspoons baking powder
1 1/2 teaspoons baking soda
3/4 cup baking cocoa
1/2 teaspoon salt
2 eggs
1 cup milk
1/2 cup vegetable oil
2 teaspoons vanilla extract
3/4 cup boiling water
Icing
1/2 Cup cocoa
3 Cups confectioners sugar
3 Tablespoons cream
6 Tablespoons butter, at room temperature
1 teaspoon vanilla
Filling
1 cup raspberry jam
Decoration
1/2 cup walnut halves
sprinkles
Directions
Cake
Preheat oven to 350 degrees F.
Grease two 8 inch round baking pans.
In a large mixing bowl mix flour, sugar, cocoa, baking power, baking soda and salt.
Add eggs, milk, vanilla extract, and oil. Beat on medium speed for 2 minutes. Stir in boiling water.
Evenly pour batter into both baking pans.
Bake in the oven for 30-35 minutes or until a toothpick comes out clean. Remove from oven and allow to fully cool.
Frosting
Combine all ingredients and beat until smooth. If icing is to thick, add more cream 1 tablespoon at a time to obtain spreading consistency.
Assembly
Place one cake layer on a serving plate and top with jam, place second cake layer on top. Spread icing over top and down sides of cake. Garnish with sprinkles and walnut halves.