Moist Mocha Cake With Creamy Mocha Frosting Recipe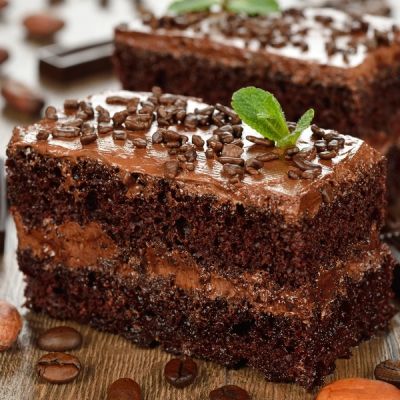 A very yummy recipe for moist mocha cake with creamy mocha frosting. Great served with vanilla ice cream.
Ingredients
Cake
2 cups all purpose flour
2 cups granulated sugar
2/3 cup unsweetened cocoa powder
1/2 cup vegetable oil
2 eggs
1 cup buttermilk
2 teaspoons baking soda
1/2 teaspoon salt
1 teaspoon baking powder
1 Tablespoon instant coffee powder
1 cup hot water
Mocha Frosting
1 cup butter
1 1/2 teaspoons vanilla extract
4 1/2 cups confectionersí sugar
4 tablespoons milk
1 cup dark cocoa powder
1 tablespoon instant coffee powder
1 cup hot water
Topping
1/8 cup sprinkles
Directions
Pre-heat the oven to 350 degrees and grease two 9 inch square cake pans.
In a large bowl add flour, sugar, cocoa powder, oil, eggs, buttermilk, baking powder, baking soda, and salt. Dissolve instant coffee in hot water and add it to the mixing bowl. Beat on medium speed for 2 minutes until smooth. The batter will be thin. Pour into prepared cake pans.
Bake for 30-35 minutes or until a toothpick comes out clean. Remove from the oven and cool for 10 minutes. Remove the cake from the baking pans and finish cooling on wire racks.
To make the frosting. in a large bowl combine butter and vanilla extract. Beat in half of the confectionersí sugar. Blend in 2 tablespoons of milk. Repeat with the other half of the confectionersí sugar and 2 tablespoons of milk. Mix in half of the cocoa powder. Dissolve 1 tablespoon of instant coffee into 1 cup of hot water. Pour 2 tablespoons of the coffee mixture into the frosting. Mix in the remaining cocoa powder. Add coffee mixture a tablespoon at a time until the frosting has achieved your desired consistency.
To Assemble. Place bottom cake payer on a serving plate, top with frosting and second cake layer. Spread frosting over top and sides of cake. Top with sprinkles.