Moist Yellow Cake Recipe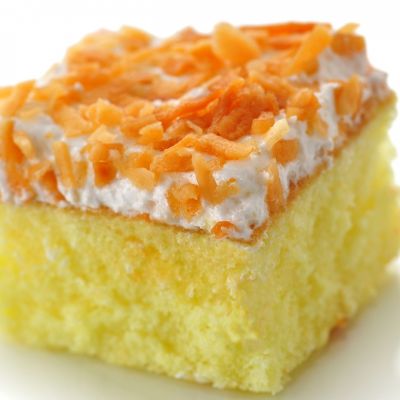 This moist yellow cake recipe is very tasty and easy to do. It has a delicious cream cheese frosting and is garnished with toasted shredded coconut.
Ingredients
Cake
2 cups cake flour
1 1/3 cups granulated sugar
3 teaspoons baking powder
1 teaspoon salt
1/2 cup butter, at room temperature
1 cup milk
2 teaspoons pure vanilla extract
2 eggs
Cream Cheese Frosting
2 cups cream cheese, at room temperature
1/2 cup butter, at room temperature
2 cups sifted confectioners' sugar
1 teaspoon vanilla extract
Toasted coconut for garnish
Serves 8 - 10
Directions
Cake
Preheat oven to 350 degrees F.
Grease a 13 x 9 baking tray with butter.
Whisk together flour, sugar, baking powder and salt. Mix in butter, milk, vanilla and eggs until well incorporated.
Pour batter into prepared and bake for 25 to 30 minutes, or until an inserted toothpick comes out clean. Set to cool.
Cream Cheese Frosting
Beat together cream cheese and butter until light and fluffy. Mix in sugar and vanilla, beat for an additional 5 minutes.
Assembly
Spread cream cheese frosting over top of cooled cake. Sprinkle toasted coconut on top. Serve