Molasses Barbecue Sauce Recipe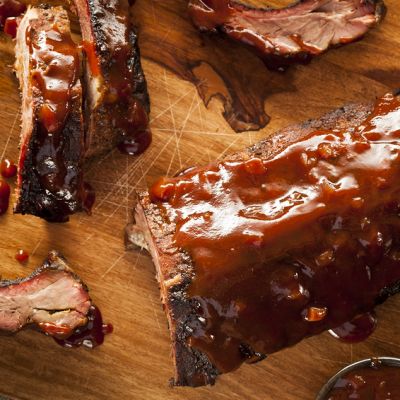 This delicious molasses barbecue sauce recipe can be used on ribs, chicken or steaks!
Ingredients
4 Tablespoons unsalted butter
1/2 cup yellow onion, finely chopped
1 garlic clove, peeled and finely chopped
1 1/3 cups ketchup
1/2 cup apple cider vinegar
1 Tablespoon Worcestershire sauce
1 teaspoon liquid smoke
1 cup packed dark brown sugar
1 Tablespoon Tabasco sauce
1/4 cup molasses
kosher salt & fresh ground pepper
Directions
In a medium bowl over medium heat, melt butter.
Add the onions and garlic and sauté for about 7-8 minutes, until soft.
Next, add the ketchup, vinegar, Worcestershire, liquid smoke, and brown sugar. Stir until well combined.
Bring the sauce to a simmer.
Once simmering, add the Tabasco sauce and molasses.
Bring the sauce back to a simmer and allow the sauce to simmer 25-30 minutes, stirring occasionally, until thickened to a medium consistency.
Season the sauce to taste with salt and fresh pepper.
Once finished, set sauce aside and allow it to cool for 1 hour.
Once cooled, puree sauce in a blender until smooth.
Serve warm alongside your favourite ribs.