Mushrooms In Cream Sauce Recipe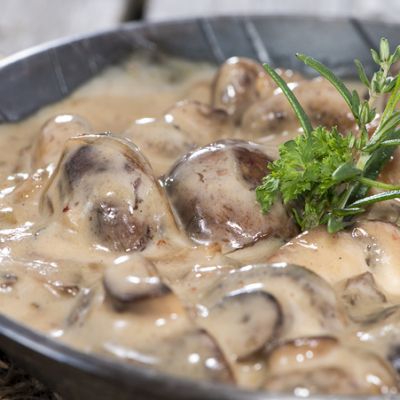 Mushrooms in cream sauce is great served over pasta or ass a gravy with potatoes.
Ingredients
2 lbs small-medium mushrooms
1/4 lb bacon, diced
1/4 cup butter
2 large onions, diced
1 cup white wine
1/2 teaspoon salt
1/4 teaspoon pepper
1/4 teaspoon paprika
1 cup heavy cream
2 Tablespoons all purpose flour
1/2 lemon, juice of
2 sprigs parsley
Directions
In a large frying pan set to medium heat, fry bacon until crispy. Remove from pan and set aside.
Melt butter in with bacon fat, add onions, saute until soft.
To the onions add mushrooms, saute a few minutes until soft.
Mix in salt, pepper, and paprika and wine.
Whisk together cream and flour in a small bowl.
Stir in cream and flour mixture.
Adjust heat to low, simmer 15 minutes.
Remove pan from heat, stir in bacon and lemon juice.
Garnish with parsley and serve over pasta or potatoes