Nachos And Cheese Recipe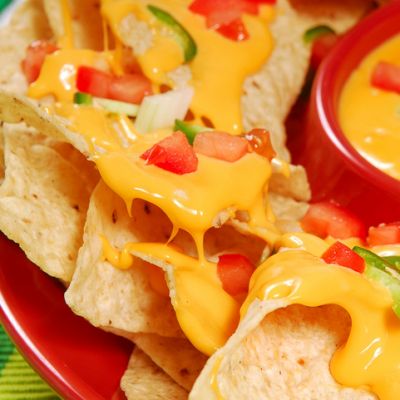 This basic nachos and cheese recipe is worth taking a look at for the delicious homemade cheese sauce for dipping that will disappear!
Ingredients
Nachos
4 cups nacho chips
2 cups cheese, grated
1-2 jalapeno peppers, sliced
1 red bell pepper, diced
Cheese Sauce
2 tablespoons butter
2 tablespoons flour
1 cup milk
4 ounces each, sharp cheddar and Swiss cheese
2 ounces canned Jalapeno peppers, diced
Directions
Preheat oven to 400 degrees F. Have ready a large baking sheet that is lined with tin foil.
Layer nachos, red pepper, and the jalapeno peppers on baking sheet and top with cheese.
Place in over and cook until cheese is melted and bubbly. Watch carefully so you do not burn the cheese.
Cheese Sauce
Melt the butter in saucepan over medium heat.
Whisk in the flour, slowly.
Add the milk and whisk until the sauce has even consistency.
Add the cheese and Jalapenos.
Cook until cheese is melted, then turn burner to low and simmer sauce for 12 minutes. If the sauce is too thick, just add a little more milk.
Serve after cooling briefly.