Nanaimo Bar Recipe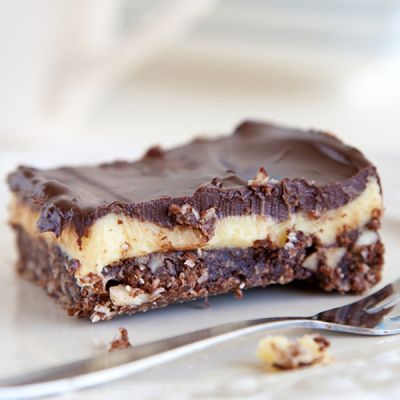 A classic nanaimo bar recipe that will be hard to resist.
Ingredients
Makes (1) 9x9 inch baking pan
Bottom
1 cup graham cracker crumbs
1/2 cup flaked coconut or shredded coconut
1/3 cup finely chopped walnut halves
1/4 cup cocoa powder
1/4 cup granulated sugar
1/3 cup butter, melted
1 egg, lightly beaten
Filling
1/4 cup butter, at room temperature
2 Tablespoons custard powder
1/2 teaspoons pure vanilla
2 cups confectioners' sugar
2 Tablespoons milk (approx.)
Topping
5 oz semisweet chocolate, chopped
1 Tablespoons butter
Directions
Bottom
Preheat oven to 350°F.
Line a 9x9 inch baking dish with parchment paper lightly grease with butter.
Place the graham crumbs, coconut, walnuts, cocoa powder and sugar into a mixing bowl.
Melt the butter in a small saucepan over low heat then drizzle into the crumb mixture.
Add the lightly beaten egg and stir until combined.
Press the crumb mixture into the prepared pan.
Place into the oven and bake about 10 minutes.
Remove from the oven and place onto a rack to cool.
Filling
Place the butter, custard powder and vanilla into a mixing bowl and use an electric mixer on medium speed to beat until creamy and combined.
Beat in the confectioners' sugar alternately with the milk until smooth. If the filling is too thick to spread add another teaspoon of milk and mix in.
Spread the filling over the cooled base and place into the refrigerator for one hour to chill.
Topping
Place the chocolate pieces and butter into a heatproof bowl that fits over a saucepan of hot (not boiling) water and melt. Stir with a spoon to make smooth.
Take the Nanaimo Bars from the refrigerator and pour the chocolate on top to make an even topping.
Take a sharp knife and just score the bars for cutting later. This will help to keep the chocolate top from cracking when you cut the pieces.
Place back into the refrigerator and cool for at least one hour.
Cut into bars. Store in an airtight container in the refrigerator.