New England Clam Chowder Recipe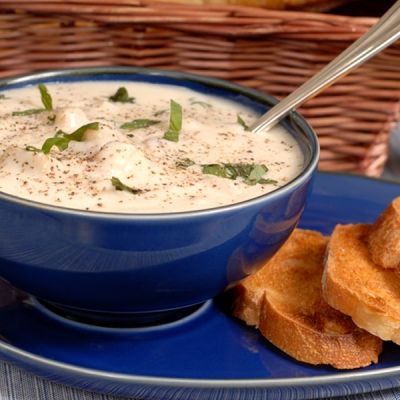 A Hearty and warm recipe for New England clam chowder. Served with buttered toast.
Ingredients
2 Tablespoons unsalted butter
1 medium onion, diced
2 celery stalks, diced
3 Tablespoons all purpose flour
2 cups chicken stock
2 cans clams in juice(approx 2 cups)
1 cup heavy cream
2 bay leaves
4 large potatoes, peeled and cut into 1/2 inch cubes
Salt and freshly ground black pepper
Directions
Heat the butter in a large pot over medium-high heat. Add the onion and celery and saute until softened.
Stir in the flour to distribute evenly.
Add the stock, juice from 2 cans of clams, cream, bay leaves, and potatoes and stir to combine. Bring to a simmer, stirring consistently.
Reduce the heat to medium-low and cook 20 minutes, stirring often, until the potatoes are nice and tender.
Add clams and season to taste with salt and pepper, cook until clams are just firm, 2-5 minutes.