New York Cheesecakes Recipe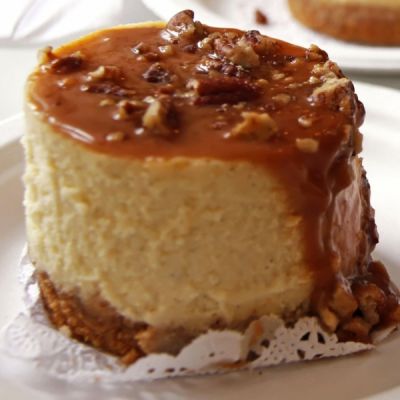 A Delicious New York cheesecakes recipe, topped with a caramel pecan sauce.
Ingredients
Crust:
1 cup graham wafer crumbs
1 tablespoon granulated white sugar
4 - 5 tablespoons butter, melted
Filling:
2 - 8 ounce packages of full fat cream cheese, room temperature
2/3 cup granulated white sugar
1/8 teaspoon salt
2 large eggs, room temperature
1 teaspoon purevanillaextract
1/2 teaspoon grated lemon zest
1/2 cup sour cream, room temperature
Caramel Pecan Sauce:
5 tablespoons butter
3/4 cup pecans, chopped
3/4 cup light brown sugar, packed
1 cup heavy cream
Directions
Preheat oven to 300 degrees F Line 12 muffin cups with paper liners.
For Crust: In a small bowl combine the graham cracker crumbs, sugar, and melted butter. Press a heaping tablespoon of crumbs onto the bottoms of the 12 muffin cups. Cover and refrigerate while you make the filling.
For Filling: In the bowl of your electric mixer beat the cream cheese on low speed until creamy and smooth.Add the sugar and salt and beat until combined.Scrape downthe sides of the bowl as needed. Add the eggs, one at a time, beating until incorporated. Add the vanilla extract, lemon zest, and sour cream and beat until incorporated.Remove the crusts from the refrigerator and evenly divide the filling among the 12 muffin cups.
Bake for 18 -22 minutesor until firm but the centers of the cheesecakes still wobble a little. Remove from oven and place on a wire rack.Let cool and then coverwith plastic wrap and refrigerate.
Prepare the sauce. Heat the 5 tablespoons of butter and pecan halves in a saucepan over medium heat. Cook, stirring, until the butter is lightly browned and pecans are aromatic. Add the brown sugar to the butter and cook, stirring, until the sugar is dissolved. Stir in the cream until well blended and heat through.
To serve, gently peel off the paper liners, place on your serving plate and top with pecan sauce.