No Bake Pumpkin Cheesecake With Pumpkin Creamcheese Frosting Recipe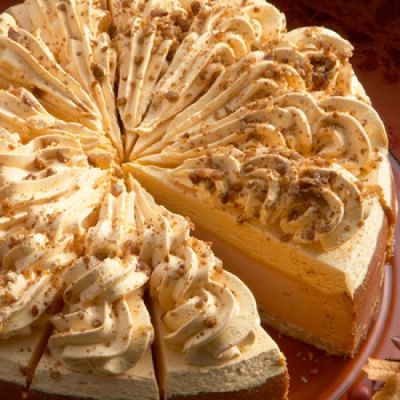 A wonderful No Bake Pumpkin Cheesecake Recipe that is sure to bring in rave reviews.
Ingredients
Crust
1 1/2 cups of crushed gingersnap cookies (fine crumbs), plus extra to sprinkle lightly on top for garnish
3 tbsp melted butter
2 tbsp sugar
Filling
8 oz cream cheese, softened
1 cup sour cream
1 cup pumpkin puree
1 1/2 cups mini marshmallows
4 tbsp butter
2 tbsp sugar
1 1/2 tsp pumpkin pie spice
1 tsp vanilla extract
Pumpkin Cream Cheese Frosting
8 oz. cream cheese
1 cup butter
10 cups powdered sugar
4 teaspoons pumpkie pie spice
6 tablespoons milk
Directions
Crust
Preheat oven to 350 degrees F.
Combine the gingersnap crumbs with the sugar and melted butter. Press evenly into the bottom of an 11 inch springform cheesecake pan.
Bake for 5 minutes then remove from oven and set aside to cool.
Filling
In the bowl of your stand mixer, beat the cream cheese until light and fluffy. Add the sour cream and pumpkin and mix until combined.
Meanwhile in a small saucepan over medium high heat melt the butter. Add the marshmallows to the butter and stir until the marshmallows melt evenly.
With the beater going, slowly add the marshmallow to the cheesecake mixture. Add the sugar, pumpkin pie spice and vanilla, mix until combined, scraping down sides of bowl.
Pour into the prepared crust and spread out evenly.
Chill in fridge for a minimum of 4 hours.
Pumpkin Cream Cheese Frosting
Once the Pumpkin cheesecake is fully chilled, make the frosting.
Beat cream cheese and butter then add powdered sugar, pumpkin pie spice and the milk, only one tablespoon at a time until it is fully blended together and fluffy. (You may use less milk than 6 tablespoons)
Spread half of the frosting onto the pumpkin cheesecake and place the other half in a piping bag. Using a #2D tip apply the top layer decoratively.
Garnish by Sprinkling with extra gingersnap crumbs on top.