No Bake Pumpkin Cheesecake Recipe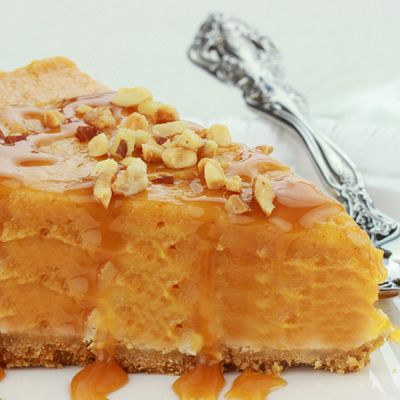 A delicious pumpkin cheesecake recipe you will love.
Ingredients
Crust
1 1/2 cups graham cracker crumbs
4 Tbsp butter, melted
Filling
1/2 cup heavy whipping cream
2 tsp powdered sugar
1/2 cup sugar
16 ounces cream cheese, softened
1 tsp vanilla
1 cup pumpkin puree
1 tsp ground cinnamon
1/2 tsp ground nutmeg
1/2 tsp ground ginger
1/4 tsp ground allspice
Praline Sauce
1/2 cup brown sugar
3 Tbsp butter, cut into tablespoons
1/4 cup heavy whipping cream
Few drops of vanilla extract
Pinch of salt
1/2 cup pecans, chopped
Directions
Mix together the graham cracker crumbs and butter.
Press into the bottom of a 9×9 pan. Refrigerate while you prepare the batter.
In a medium bowl, beat the cream until it thickens.
Slowly add the powdered sugar then beat until stiff peaks form (pull beaters straight up and the peaks should not fall). Set aside.
In a large bowl, beat together the sugar, cream cheese, and vanilla.
Beat until smooth then beat in the pumpkin, cinnamon, nutmeg, ginger, and allspice until smooth.
Fold in the whipped cream. Spread evenly into the prepared pan.
Refrigerate for at least 4 hours before serving.
For the sauce: Place brown sugar in a deep saucepan and heat over medium heat. As the sugar melts, start whisking.
As soon as all of the sugar is melted, carefully add the butter and whisk until melted.
Remove from the heat and slowly add the cream. Once it settles down, whisk until smooth then whisk in the vanilla and salt.
Stir in pecans. Serve over cheesecake.