One Pot Herb Roasted Chicken Dinner Recipe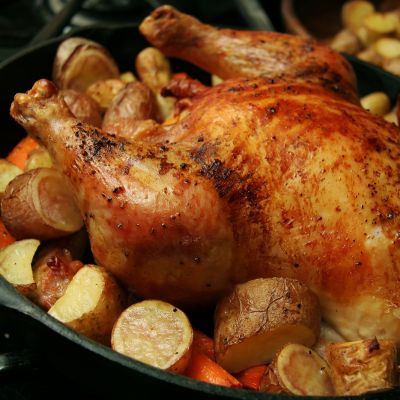 Where all of Grandmother's favorite recipes are found, just like Grandmother makes them, with a little love.
Ingredients
1 whole chicken
8 red potatoes washed and cut in halves or quarters
5 carrots peeled and cut into 2-3 inch pieces
1 large onion (white or yellow)
2 bulbs of garlic chopped
4 sprigs of parsley
4 sprigs of sage
2 sprigs of rosemary
6 sprigs of thyme
1/2 cup of white wine
2 tablespoons of olive oil
1 teaspoon ground pepper
1 teaspoon salt
Directions
Preheat the oven to 375 degrees F.
Wash the chicken in a sink of cold water, inside and outside. Discard organ meat from the cavity unless you plan to cook it.
Place the chicken into a roasting pan. Sprinkle salt and pepper inside the cavity and on the outside of the chicken.
Slice the garlic cloves in halves or quarter if they are large cloves. On the top area of the chicken, just above the cavity, separate the skin just a little from the breast meat. Take a third of the garlic and the herbs and gently push up in between the skin that has been separated from the breast meat and reserve the remaining herbs.
Place the remaining herbs and half the remaining garlic into the cavity of the chicken.
Sprinkle the remain chopped garlic around the roaster.
Cut the onion into fairly large pieces. Add the onions to the roaster pan and also put a few pieces into the cavity of the chicken. Place the potatoes and carrots into the roaster pan around the chicken. You want to leave the vegetables in nice big pieces.
Sprinkle a little salt and pepper over the chicken and vegetables in the roaster pan. Drizzle the olive oil over the chicken and vegetables. Add the wine so that when you pour it, some will go into the cavity of the chicken. Of you do not want to use wine, you can use water.
Cover the roaster pan with a lid (or foil if you donít have a lid).
Bake in a preheated oven for about 1 1/2 hours.
The chicken in this recipe weighed about 4-5 pounds. When you remove the chicken from the oven, keep the lid on and let it rest for about 15 minutes before cutting it.
Serve and season to taste.