Orange Bundt Cake Ii Recipe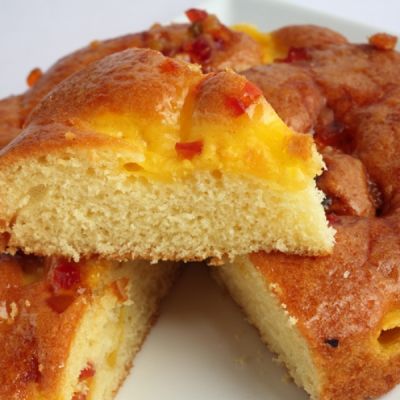 A recipe for an Orange Bundt Cake with tasty chopped candied fruit peel.
Ingredients
2 1/2 cups all purpose flour
1 1/2 cups granulated sugar
3/4 cup butter, at room temperature
1 cup orange juice
1/2 cup plain yogurt
1 Tablespoon grated orange peel
1 1/2 teaspoons baking soda
1 1/2 teaspoon vanilla
3 eggs
1 cup candied orange peel chopped into small pieces
1/2 cup candied lemon peel chopped into small pieces
1/2 cup cranraisins chopped
Directions
Preheat oven to 350°F.
Grease and flour 12 cup bundt cake pan.
Using a large mixing bowl, combine all ingredients except the chopped candied peels together.
Use a hand or stand up mixer and beat on low speed for 30 seconds, then on high speed for three to four minutes, scraping bowl as needed. Stir in the candied peel and chopped cranraisins.
Pour into the greased pan.
Bake for an 50-60 minutes or until toothpick inserted in centre comes out clean.