Orange Bundt Cake Recipe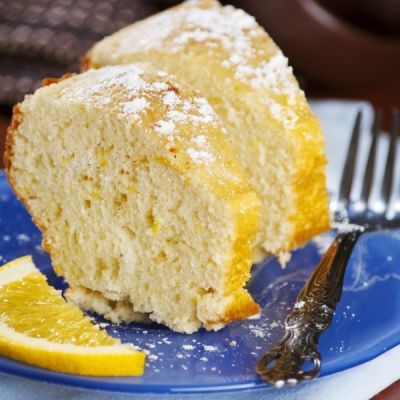 A recipe for an Orange Bundt cake flavored with fresh oranges.
Ingredients
2 whole oranges - choose seedless navel - scrubbed and washed well
340g (3 sticks) butter, softened
1 2/3 cups caster sugar
3 large eggs, room temperature
1 tablespoon pure vanilla extract
3 cups all purpose flour
3 teaspoons baking powder
1 teaspoon Kosher salt
powdered sugar to dust the cake
Directions
Preheat oven 350 degrees F.
Generously grease and flour a Bundt pan and set aside.
Quarter the oranges, remove any seeds if not using navel, and put in food processor to puree. Set aside.
Cream the butter and sugar together in the base of an electric mixer for about 5 minutes until light and fluffy. Add the eggs, one at a time, waiting until each is fully incorporated. Add the orange puree and vanilla extract and mix until combined.
In a separate bowl, whisk together the flour, baking powder, and salt. Mix into the wet ingredients gently, just until fully combined.
Pour the cake batter into the prepared Bundt pan, spreading so that it is evenly distributed. Bake for about 60 minutes or until a tester inserted in the cake comes out clean.
Let cool in the pan for 15 minutes before inverting onto a wire rack to cool.
Dust with powdered sugar.
Will keep for 3-5 days in a cake dome or under plastic wrap.