Orange Cake With Greek Yogurt Topping Recipe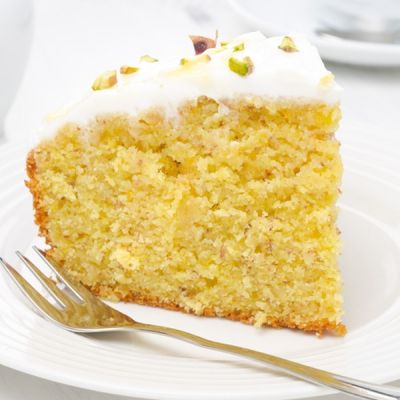 A Tasty recipe for yummy orange cake with Greek yogurt topping and pistachios.
Ingredients
Cake
2/3 cup butter, at room temperature
1 cup granulated sugar
3 eggs
2 cups self raising flour
3/4 cup milk
juice and zest of 1 orange
Frosting
1/2 cup cream cheese, at room temperature
1/2 cup plain Greek yogurt
2 Tablespoons pure maple syrup
Topping
1/8 cup pistachios, chopped
Directions
Preheat the oven to 350 degrees F. Grease a 8 inch cake pan.
Cream butter with sugar. Add eggs one at a time beating well after each one.
mix in flour alternately with milk.
Fold in orange juice and zest.
Bake for 35 to 40 minutes. or until a tester inserted int he center comes out clean.
Remove from oven and cool in tin for 5 minutes before removing to a wire rack to cool completely.
To make frosting, whisk cream cheese, yogurt and syrup until smooth.
Spoon frosting onto cooled cake and top with s sprinkle of pistachios to serve.