Orange Loaf Recipe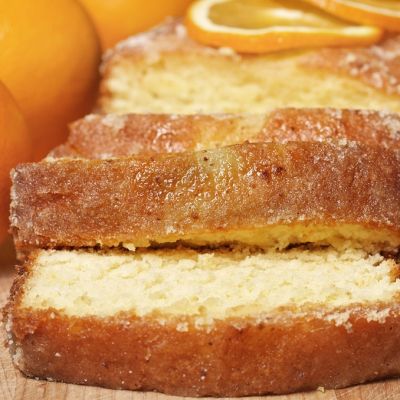 This orange loaf recipe is easy to make and so tangy and sweet.
Ingredients
2 cups all purpose flour
2 1/4 teaspoon baking powder
1/2 cup butter
1 1/4 cup granulated sugar
1 teaspoon vanilla
2 eggs
1 teaspoon of fresh orange zest
1/2 cup fresh orange juice
1/4 teaspoon salt
1/2 cup of yogurt
Glaze
1 cup confectioners' sugar
1 small orange, squeezed
(Makes 1 9x5 inch loaf)
Directions
Preheat your oven to 375ºF.
Grease and flour a 9x5 inch loaf, or line with parchment paper. Set aside.
In a medium bowl, combine the flour and baking powder. Set aside.
In the bowl of a stand mixer fitted with a paddle attachment, cream the butter, sugar, and vanilla.
Add the eggs, one at a time, beating between each addition.
Add the orange zest, juice, salt and yogurt.
Add the dry ingredients to the wet and mix thoroughly.
Pour the batter into the prepared loaf pan.
Transfer loaf to the preheated oven. Bake for 45-50 minutes, or until a tester inserted into the centre of the loaf comes out clean.
Once cooked, allow the loaf to rest for 10 minutes before removing it from the pan.
Allow to cool on a wire rack. Top with glaze while still slightly warm.
Glaze
To make the orange glaze, all you need is 1 cup of confectioners' sugar, sifted, and 1 orange. Squeeze orange juice into the sugar until the icing is thin enough to drizzle over the loaf, while loaf is still warm.