Oven Baked Chicken Pieces Recipe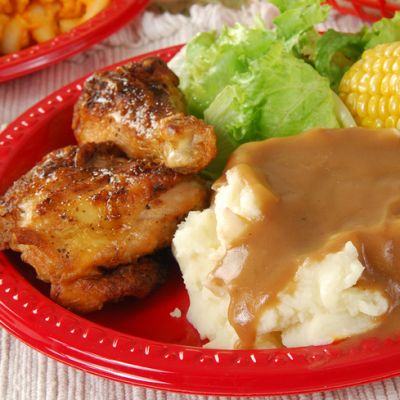 Chicken is the PERFECT choice for a summer meal. What an appealing meal with corn on the cob, and mashed potatoes!
Ingredients
6-8 pieces of chicken
1 1/2 cups all purpose flour
1 teaspoon paprika
1 teaspoon garlic powder
1 teaspoon salt
1 teaspoon pepper
cooking spray
Directions
Preheat the oven to 425F.
Line a baking dish with aluminum foil and lightly grease the foil with olive oil.
Place the flour, paprika, garlic powder, salt and pepper into a plastic bag and shake to combine.
Place the chicken pieces into the bag one or two at a time and shake to coat. Shake any excess flour off.
Place each piece onto the baking dish with the skin side down and leave space between the pieces.
Place into the preheated oven and bake 20 minutes, then flip the pieces and bake another 20-30 minutes until crispy and the chicken is cooked throughout. (165F.on a meat thermometer)
Remove from the oven and serve.
Delicious with pretty much anything!