Oven Baked Pork Chops Recipe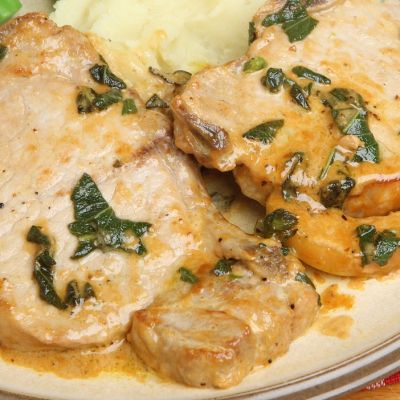 This oven baked pork chop recipe includes instructions for a tasty gravy that the pork chops are baked in. This meal would be really good with mashed potatoes.
Ingredients
1/2 cup all purpose flour, divided
1/2 teaspoon garlic powder
1 1/2 teaspoons paprika
1 teaspoon salt
1/2 teaspoon fresh ground black pepper
1 pinch cayenne pepper
6-8 pork chops (1-inch thick or a little thicker)
2 Tablespoons butter
2 Tablespoons oil (more if needed)
1 onion, chopped
4 garlic cloves, minced
2 cups milk
2 Tablespoons fresh lemon juice
2-4 sage leaves, chopped to small pieces
(6-8 servings)
Directions
Preheat oven to 350 degrees F.
Line a 9x13 inch baking dish with aluminum foil and grease the foil.
Measure out 3 tablespoons of flour into a separate small bowl.
In a mixing bowl, stir the remaining flour, garlic powder, paprika, salt, pepper together.
Place the pork chops into the flour mixture one at a time to coat them and place the coated pork chop onto a plate.
Using a large skillet, melt the butter and heat the oil together over medium to high heat. Add the pork chops and brown both sides then place them into the prepared baking dish.
In the same skillet you cooked the pork chops in,saute the chopped onion until soft over medium heat.
Add the minced garlic and cook 2 minutes.
Stir in the reserved 3 tablespoons of flour with a fork and cook over low heat for one minute, stirring while it lightly browns.
Slowly stir in the milk, and using a silicone spatula or wooden spoon, keep stirring and bring to a boil. Cook for 2 minutes until the sauce is bubbly hot and smooth.
Remove from the heat and stir in the lemon juice and the chopped fresh sage.
Taste the gravy and season to suit your taste.
Pour the gravy over the pork chops, lifting them slightly so the gravy will also go under them.
Cover lightly with foil, don't seal it up as you want air to flow while the pork chops are cooking.
Bake for 50-60 minutes. Remove from the oven to a serving platter and be sure to spoon the gravy onto the pork chops and platter when you serve them.