Oven Baked Ribs Recipe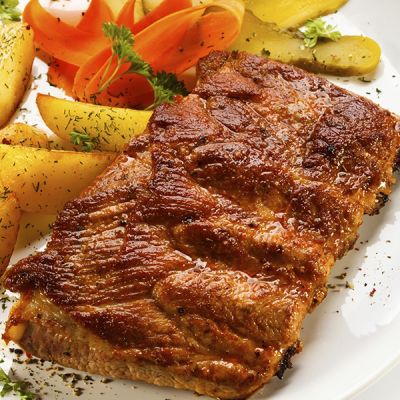 This is the easiest recipe for oven baked ribs that you will come across.
Ingredients
2 racks pork baby back ribs
1 teaspoon salt
1 teaspoon pepper
2 garlic cloves, minced
1 Tablespoon olive oil
*1 cup of your favorite barbecue sauce
Directions
Preheat oven to 225F.
In a small bowl mix together oil, garlic, salt and pepper.
Rub mixture over ribs.
Place ribs, meat side down, in a baking dish.
Cover with aluminum foil and place in oven.
If you are using regular sized ribs, bake for 4 hours, baby back ribs will be about 3.5 hours.
Drain off the drippings. Carefully turn the ribs over using two spatulas so the meat side is up.
Put a layer of BBQ sauce on the ribs and return to the oven uncovered for an additional 20-30 minutes.
Remove from oven and serve them up with a side of potato salad and some baked beans.