Oven Onion Rings Recipe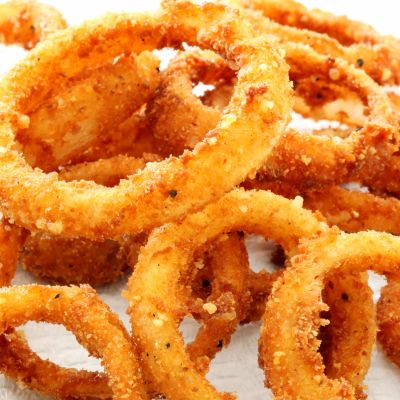 This oven onion ring recipe makes a crispy yummy appetizer that are great with the dip of your choice
Ingredients
1/4 cup plain panko crumbs
1/2 teaspoon dried oregano
1/4 teaspoon cayenne pepper
2 medium onions, cut cross ways into 3/16-inch rings
1/2 cup milk
Salt and fresh ground pepper
(Serves 4)
Directions
Preheat oven to 350 ºF.
Line a baking sheet with aluminium foil and lightly grease with olive oil.
In a small bowl, combine panko crumbs, oregano and cayenne pepper.
Dip onion rings into the milk then dredge them into the panko mixture. Turn to evenly coat and press to adhere crumbs.
Gently place the breaded onion rings in a single layer on the prepared baking sheet.
Transfer the baking sheet to the preheated oven and bake until golden and the onion rings are soft, about 30 minutes.
Season with salt & pepper.
Serve immediately.