Pan Fried Scallops Recipe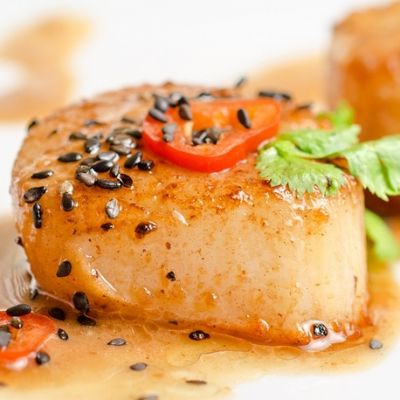 This pan fried scallop recipe makes a lightly lemon and butter flavored scallop.
Ingredients
1/4 cup all purpose flour
1/2 teaspoon salt
1/4 teaspoon pepper
4 Tablespoons butter
8 -10 sea scallops
1 Tablespoon lemon juice
1 Tablespoon black sesame seeds
1 hot chili pepper, sliced thin (optional)
2 teaspoons chopped parsley
(2 Servings)
Directions
In a large mixing bowl, combine flour, salt and pepper.
Dip scallops in flour mixture and set aside.
Use a large frying pan, and melt 2 Tablespoons of butter over medium-high heat. Season the butter with a dash of salt and pepper.
Toss in scallops, stirring once or twice until golden brown and no longer translucent.
Remove from heat and set aside.
Lower the heat. Add the rest of the butter and red chili and stir, scraping the pan and incorporating brown bits into the butter.
With a fork or whisk, stir in lemon juice and parsley.
Pour over scallops and garnish with red hot pepper slices and then sprinkle with sesame seeds.