Pastry Bars Recipe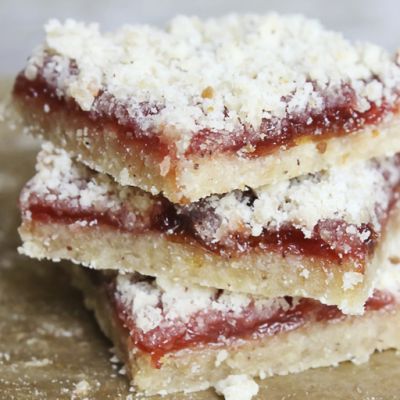 Delicious pastry bars topped with your favorite jam and a crumble sweet topping.
Ingredients
3/4 pound butter, at room temperature
1 1/4 cups granulated sugar
2 eggs
1 teaspoon pure vanilla extract
1 teaspoon salt
3 3/4 cups all purpose flour, divided
1 cup chopped walnuts (optional)
1 (12 ounce) jar raspberry jam or your own preserves
1/4 cup confectioners' sugar
Directions
Preheat oven to 350°F.
Grease a cookie sheet with butter.
In a large bowl cream together butter and sugar until light and fluffy.
Beat in eggs and vanilla until combined.
In a medium bowl mix together 3 1/2 cups flour and salt.
Gradually add to butter mixture to form thick batter.
Spread 3/4 of the batter evenly over surface of the prepared cookie sheet. Reserve 1/4 of the dough for the topping.
Next spread on an even layer of jam.
Topping
Blend remaining 1/2 cup of flour with the rest of the dough. Crumble on top.
Bake 35 minutes or until crust is golden brown.
Cool completely and cut into bars.
Dust bars with confectioners' sugar.