Peaches And Cream Crepes Recipe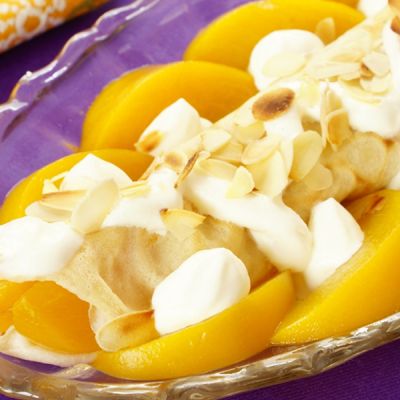 These peaches and cream crepes are perfect for that mid-morning meal.
Ingredients
Crepes
4 large eggs
1 cup all purpose flour
2 Tablespoons granulated sugar
1 cup milk
1/4 cup water
1 Tablespoon melted butter
vanilla frozen yogurt (or non frozen yogurt)
1 pound fresh peaches, peeled and diced
*Optional: confectioners' sugar
1/2 cup toasted slivered almonds
Directions
Crepes
Put all the ingredients in a bowl and mix together with an electric mixer or by hand.
Scrap down the sides and blend for an additional minute or until smooth.
Refrigerate for 1 hour.
If you use a non stick skillet you will not need to add additional oil, but if you are using a regular frying pan then put a teaspoonful of oil in the pan.
Pour a little batter in the pan, just pour in enough batter so it will thinly coat your pan, tilt the pan to spread the batter evenly on the bottom of the pan.
Cook over medium heat for a couple of minutes until the bottom is light brown, flip and cook for a few seconds more
Remove from heat and stack on a plate with parchment paper between them.
Assembly
Place frozen yogurt and peaches in center of crepes.
Wrap crepes around filling and dust with powdered sugar.
Dollop more yogurt on top, garnish with almond slivers and surround with peach slices.