Peanut Butter And Jelly Cupcake Recipe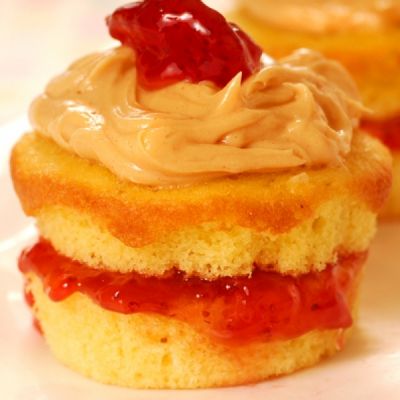 This recipe for Peanut Butter and Jelly Cupcakes will remind you of a childhood sandwich favorite.
Ingredients
Cupcakes
1 3/4 cups all purpose flour
3/4 tablespoons baking powder
1/2 teaspoon salt
6 ounces ( 1 1/2 sticks) unsalted butter, softened to room temperature
1 1/3 cups sugar
2/3 cup natural, creamy peanut butter
3 large eggs
1/2 cup sour cream
1/2 teaspoon vanilla extract
Peanut Butter Frosting
1 cup confectioners sugar
1 cup creamy peanut butter
5 tablespoons butter, at room temperature
3/4 teaspoon pure vanilla extract
1/4 teaspoon salt
1/3 cup heavy cream
Strawberry Jam
Directions
Cupcakes
Preheat oven to 350 degrees F.
Line standard muffin tins with paper liners.
In a large bowl, mix the dry ingredients together.
In a second large bowl, cream butter and sugar with a mixer until light and fluffy. Add the peanut butter first, then add eggs, 1 at a time, beating after each addition.
Reduce speed to low. Mix any remaining wet ingredients into the bowl.
Add dry ingredients to butter mixture in 3 additions, alternating with wet ingredients and ending with dry. Scrape sides of bowl.
Divide batter among muffin cups, filling each 2/3 full.
Bake cupcakes until testers inserted into centers come out clean, about 20 minutes. Let cool in tins on wire racks.
Once cupcakes are cool, cut the cupcakes in half and spread a layer of jam in the middle. Frost tops with peanut butter frosting.
Peanut Butter Frosting
Place the confectioners sugar, peanut butter, butter, vanilla, and salt in the bowl of an electric mixer fitted with a paddle attachment.
Mix on medium-low speed until creamy, scraping down the bowl with a rubber spatula as you work. Add the cream and beat on high speed until the mixture is light and smooth.