Peanut Butter Butterscotch Chip Cookies Recipe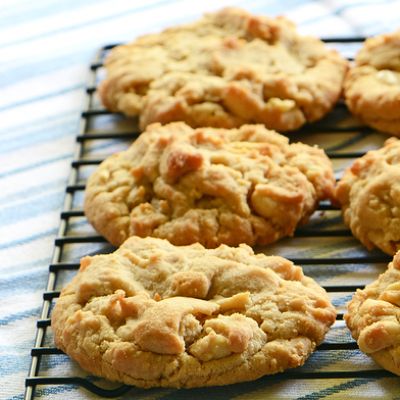 These are great cookies to pack in lunchboxes. Have fun baking them with the kids.
Ingredients
1 cup + 2 Tablespoons all purpose flour
3/4 teaspoon baking soda
1/2 teaspoon baking powder
1/2 teaspoon salt
10 Tablespoons butter, at room temperature
1/2 cup creamy peanut butter
1/2 cup granulated sugar
1/2 cup dark brown sugar
1 egg
1 teaspoon pure vanilla extract
3/4 cup butterscotch chips
Directions
Preheat oven to 350 degrees F.
Line two baking sheets with parchment paper.
In a mixing bowl stir together the flour, baking soda, baking powder and salt and set aside.
In another mixing bowl, use an electric mixer to beat the butter until creamy. Add the peanut butter and beat in.
Add the granulated and brown sugar and beat in until combined, light and fluffy.
Beat in the egg and vanilla.
Add the flour mixture and mix in.
Add the butterscotch chips and stir in with a spatula.
Use a tablespoon to scoop the dough balls and place them onto the prepared sheets leaving 1 1/2 inches between the cookies.
Place into the preheated oven and bake for 10-12 minutes until done. Time will depend on your own oven. Bake one pan at a time on the middle rack.
Remove and place the baking sheet onto a cooling rack.
Let the cookies cool for 5 minutes in the pans then transfer them to a cooling rack to cool completely.
Cookies will keep up to 5 days at room temperature.