Peanut Candy Balls Recipe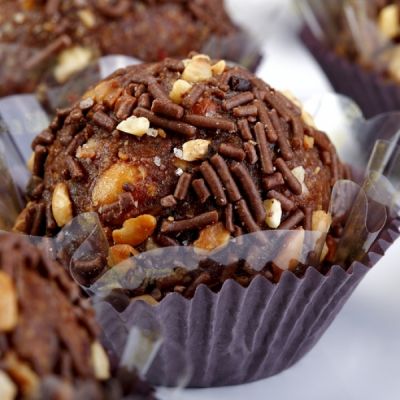 A recipe for an easy to make Peanut Candy Balls. A great treat anytime.
Ingredients
2 cups confectioners (powdered) sugar
1 cups graham cracker crumbs (about 7 full graham cracker sheets)
3/4 cup peanuts, finely chopped
1/2 cup shredded or flaked sweetened coconut
1/2 cup unsalted butter
1/2 cup creamy peanut butter
Chocolate Cake sprinkles
Mini cupcake liners
Directions
In a medium mixing bowl, combine powdered sugar, graham cracker crumbs, peanuts, and coconut; mix together. Set aside.
In a small heavy-bottomed pan over low heat, combine butter and peanut butter; stir with a rubber spatula or wooden spoon until melted. Add to powdered sugar mixture. Stir well to combine all ingredients.
Shape dough into small balls, about 1" in diameter. A small ice cream scoop is ideal for making uniform-sized candies. Pat chocolate cake sprinkes on the outside and place into a mini cupcake liner. When all are done, put into a sealed contained and keep refrigerated until eating.