Peanut Curry Chicken Recipe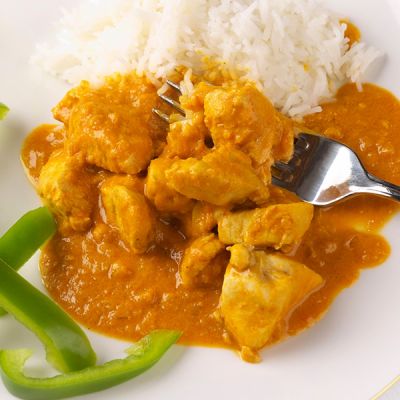 This peanut curry chicken is so tasty and is really easy to make. Curry always goes perfectly with rice.
Ingredients
4 chicken breasts, deboned and skinned
1 Tablespoon minced garlic
1 onion, chopped
2 (15 ounce) cans coconut milk
2 Tablespoons red curry paste
1/4 cup creamy peanut butter
1/2 cup chopped peanuts
4 teaspoons granulated sugar
4 teaspoons fish sauce OR soy sauce
1 Tablespoon cornstarch
salt
Directions
Start by cooking the chicken.
Cut the chicken into bite sized cubes.
Heat the olive oil in a skillet on the stovetop,
Add the chopped onion, minced garlic and the chicken.
Cook until the chicken is cooked through and no pink is showing. Turn off.
In a a large sauce pan heat the coconut milk, curry paste, peanut butter, sugar, and fish OR soy sauce until they it starts to boil. Turn off.
Set aside and cool, using a whisk to stir in the cornstarch to thicken the sauce. (If you feel the sauce should be thicker, stir in a little more cornstarch)
Add the cooked chicken mixture to the curry sauce bring to a boil then shut off.
Serve the peanut curry chicken with rice.