Pear Cake With Caramel Sauce Recipe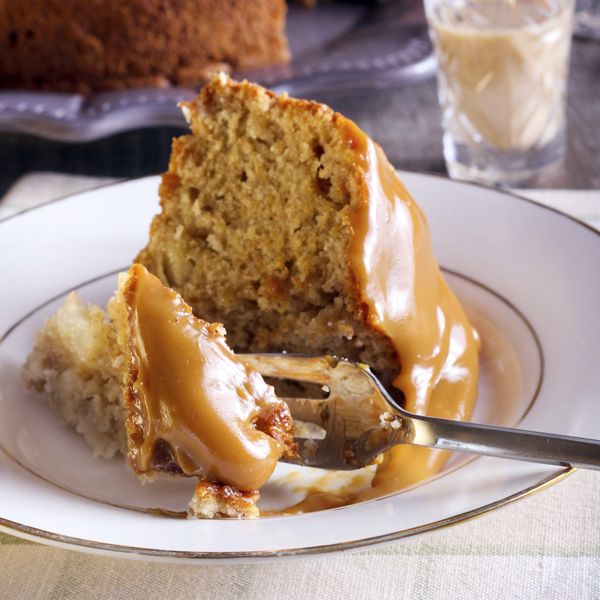 This pear cake recipe is sweet and satisfying, with or without the caramel sauce.
Ingredients
Cake
3 cups all purpose flour
2 teaspoons baking powder
1/2 teaspoon salt
2 teaspoons ground ginger
1 teaspoon ground cinnamon
1/2 teaspoon ground nutmeg
1/2 teaspoon ground cloves
1 cup milk
3 eggs
2 teaspoons vanilla
1 1/2 cups butter, softened
2 cups brown sugar
5 pears, peeled, cored and sliced
Caramel Sauce
1 cup brown sugar
1/2 cup whipping cream
4 Tablespoons butter
1 tablespoon vanilla
Directions
Preheat oven to 350ºF
Grease a 9 inch round pan.
Place pear slices side by side along bottom of pan.
In a large bowl, mix dry ingredients and spices together.
In separate bowl, mix milk, eggs and vanilla.
Beat softened butter into dry ingredients
Slowly add wet ingredients mixture and beat on low until smooth.
Add the sugar and beat for 1 minute.
Pour batter into cake pan.
Top cake with more pear slices, side by side.
Bake for 35-40 minutes, until fork comes out clean.
Caramel Sauce
Mix the brown sugar, cream, and butter in a saucepan over low heat.
Stir while cooking, for about 5 minutes, until the sauce thickens.
Add the vanilla and cook another minute.
Leave to cool at least 30 minutes.
Pour and then spread evenly over cake.