Pineapple Apple Smoothie Recipe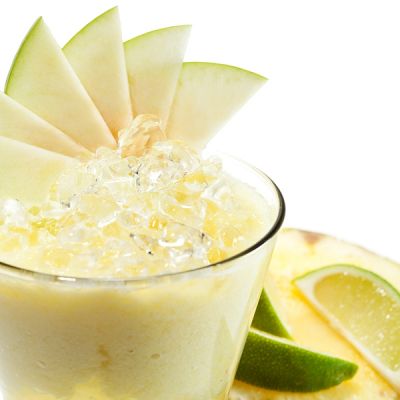 This pineapple apple smoothie recipe is super refreshing. It also contains bananas, coconut milk and fresh lime juice. A very nutritious healthy drink.
Ingredients
1 whole ripe pineapple, peeled, cored and roughly chopped
2 bananas, just ripe, peeled and roughly chopped
1/2 cup coconut milk
1/2 granny smith apple, peeled, cored and roughly chopped
juice of 1 lime
(Makes 2-4 servings)
Directions
You will need a food processor or blender to make this juice.
This will be the best if you use cold fruit and bananas that are frozen.
Once you have prepared all the fruits, place them into the blender and blend until smooth.
Place some fine ice into the glasses and fill with the juice.
Garnish with apple slices and limes if desired.
Tip: Freeze your bananas a day ahead. Just peel them, cut them into 1 inch chunks, place into a container with a lid and freeze.