Pineapple Glazed Cake Recipe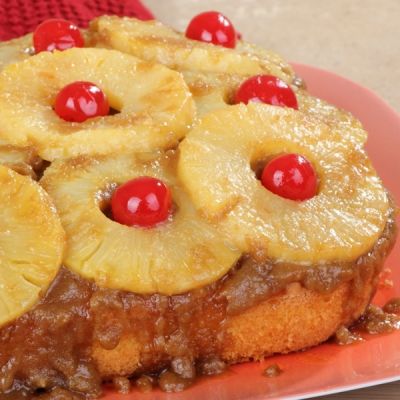 A very yummy recipe for pineapple glazed cake.
Ingredients
1 1/2 cups self raising flour
1/2 cup butter
1 cup granulated sugar
5 eggs
juice of 1 lemon
9 Glazed cherries
1/2 teaspoon cinnamon
2 Tablespoons pineapple juice
12 canned pineapple rings
1/4 cup honey, warmed up
Directions
Preheat oven to 350 degrees f.Line the bottom of a 9x9 inch baking tin with 2 layers of parchment paper.
Make sure that the butter and eggs are kept in room temperature for sufficient time. Seperate egg yolks and white and keep both aside.
Chop 3 slices of pineapple into fine pieces and gently squeeze out the juice. Keep the pieces aside.
In a mixing bowl mix butter sugar, with an electric mixer. Add egg yolks and mix well. Add lemon juice, cinnamon powder, pineapple juice and mix well. add pineapple pieces and mix well with a spatula. Beat egg whites seperate until stiff peaks form and fold into the batter.
Line the bottom of the parchment paper withpineapple pieces around bottom.
Pour the batter on top.
Bake for 30 minutes or until a skewer inserted in the middle comes out clean.
Cool on wire rack.
Flip cake upside down onto a cake stand, place cherries on top and pour honey over.