Pineapple Glazed Tart Recipe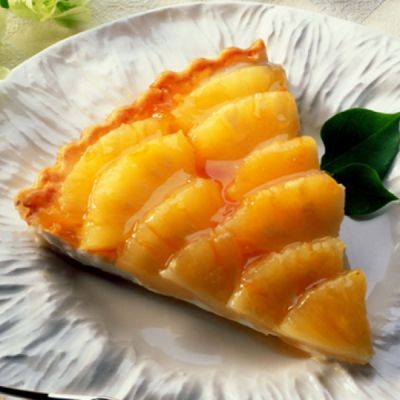 A very yummy recipe for pineapple glazed tart
Ingredients
Crust
1/2 cup butter, melted
3 Tablespoons granulated sugar
1/4 teaspoon salt
1 1/4 cups all purpose flour
Filling
2 eggs
1 cup(8 oz) cream cheese, at room temperature
1/3 cup granulated sugar
1/2 teaspoon vanilla extract
3 cups pinepple
Glaze
1 cup pineapple juice
1/4 cup granulated sugar
1 Tablespoon corn starch
1 Tablespoon water
Directions
Crust
Preheat oven to 450°F.
Grease a 9 inch tart pan with a removable bottom.
To make the crust, Combine the butter, sugar, and salt in a large bowl and stir until combined.
Add flour and mix until a soft dough forms.
Sprinkle the dough over the bottom of tart pan.
Using a cup or your fingers, evenly press the dough into the bottom and up the sides of the pan.
Prick it all over with a fork.
Bake 10 minutes. Cool on cooling rack 15 minutes.
Reduce oven temperature to 375°F.
Filling
Using an electric mixer, beat cream cheese and sugar on medium speed until light and fluffy.
Beat in vanilla and the eggs until well blended.
Pour into crust.
Bake 20 minutes or until filling is set.
Cool 10 minutes. Refrigerate 1 hour or until cooled and set.
Glaze
To make the glaze, combine pineapple juice and sugar in a small saucepan.
Cook over medium heat, stirring occasionally, until mixture comes to a boil.
In a small bowl mix cornstarch and water.
Stir starch mixture into the pineapple and cook over medium heat, stirring constantly, until glaze is clear and thick.
Remove from heat and allow to cool.
Assembly
Arrange pineapple slices around tart and top with cooled glaze, chill until ready to serve.