Pistachio Cannoli Recipe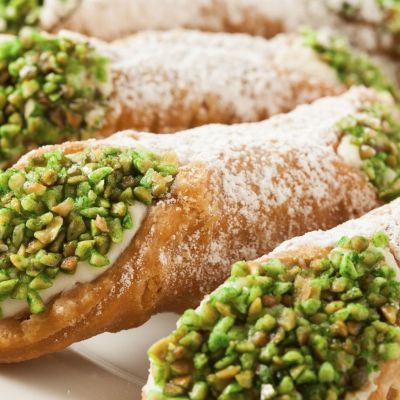 This pistachio cannoli recipe is made with a mixture of cheeses and is perfect the someone who loves both salty and sweet.
Ingredients
Shells
3 cups all purpose flour
1/4 teaspoon cinnamon
1/2 teaspoon salt
3 tablespoon granulated sugar
2 eggs
2 tablespoon butter, cut into cubes
1/4 cup Marsala wine
1-2 egg whites, whisked slightly for brushing to use as a glue to hold the cannoli rolls together
3 cups oil, for cooking (or less, depending on the size of your pot. You need about 1-2 inches in the bottom)
*Note, This recipe is for homemade cannoli, but if you do not want to make your own shells you can purchase 12 pre-made ones and make the filling.
Filling
4 ounces mascarpone cheese
3/4 cup confectioners' sugar
1/2 cup ricotta cheese
1/2 cup whipping cream
1/2 cup pistachios, chopped
confectioners' sugar for dusting
Directions
Shells
In a mixing bowl, sift together the flour, salt, cinnamon and granulated sugar.
Next, mix in the butter and eggs with a fork.
Slowly add in the wine until the dough comes together.
Form it into a large ball and let it rest for 15 minutes.
Have about 3 cups of oil slightly boiling in a small pot.
Dust a cutting board with flour.
Roll out the dough until it is 1/4 inch thick. Use a 3 1/2 inch round cutter to make circles.
Roll out this dough and fold it into the shape of a cannoli shell.
You a pastry brush to apply the beaten egg whites as a glue to hold the shell together.
Heat the oil in a small pot to about 350 degrees F.
Gently insert the shells one at a time for about one minute.
Gently remove them using tongs to a plate lined with paper towels and let sit.
Repeat until done. Let cool before inserting the filling.
Filling
In a large bowl, stir together the marscapone cheese, confectioners' sugar, ricotta cheese, until smooth. Set aside.
In a chilled mixing bowl, beat whipping cream with an electric mixer until stiff peaks form. Fold into mixture.
Assembly
Pipe filling into cannoli shells so filling extends from ends. Sprinkle the cannoli ends with chopped nuts.
Sprinkle with confectioners sugar and place onto a serving dish.