Plum Parfait Recipe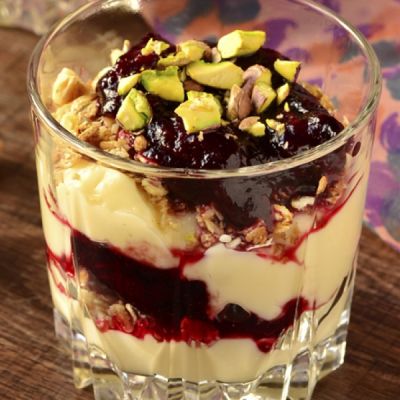 This plum parfait recipes tells you how to make a plum sauce from scratch, or you can substitute plum jam. The mascarpone whipped cream pares well in this parfait.
Ingredients
Mascarpone Whipped Cream
1 cup heavy cream (whipping cream)
6 Tablespoons mascarpone cheese
2 Tablespoons granulated sugar
1/4 teaspoon pure vanilla extract
Plum Sauce
2 pounds plums, ripe
1/3 cup granulated sugar, (more or less,depending on your tastes)
3/4 teaspoon ground ginger
1/4 teaspoon ground cinnamon
*NOTE: If you do not want to make the plum sauce choose a nice plum jam to substitute.
Additional Parfait Layers
1/4 cup pistachio nuts
1/2 cup crispy granola
Directions
Mascarpone Whipped Cream
You need to make this ahead of assembling the parfaits as it needs to be refrigerated for at least 3 hours before using.
In a large mixing bowl, using an electric mixer, beat the cream, mascarpone, sugar and vanilla together.
Beat until firm peaks form.
Place in a container with a lid and refrigerate.
Makes about 3 cups.
Home Made Plum Sauce
*Note we are giving you the instructions to make the plum sauce yourself, but if you want to use a plum jam in these parfaits, you can do that instead.
Wash the plums, cut in half, and remove the pit.
Slice the plums into small pieces.
Using a heavy bottom skillet,heat the empty pot over medium heat until the bottom is hot.
Using a wooden spoon, stir in the plums, sugar, ginger and cinnamon.
You must stir continually until the sugar has dissovled and turns into a syrup and the plums are tender but not mushy.
Turn off and transfer the mixture into a bowl to cool to room temperature.
Do a taste test and adjust the sugar and spices to you taste.
Assembly
Choose 4 glasses.
Start with a whipped mascarpone layer.
Next a thin layer of granola.
Next a plum sauce layer.
Repeat the layers and garnish with chopped pistacho nuts.