Po Boy Sandwich Recipe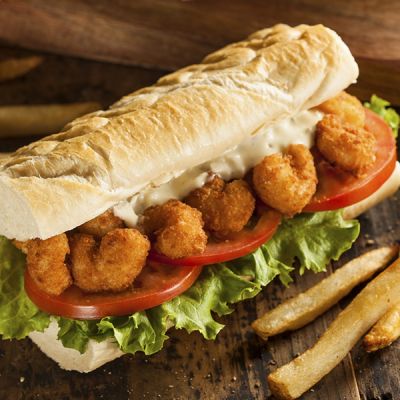 This Po Boy sandwich recipe gives instructions on how to bake these crispy shrimps. Shrimp lovers will enjoy this tasty sandwich.
Ingredients
Coleslaw
2 1/2 cups cabbage and carrot coleslaw mix
1 bunch green onion, chopped
2 Tablespoons sweet pickle relish
1 Tablespoon mustard
2 Tablespoons light mayonnaise
2 Tablespoons white wine vinegar
1/4 teaspoon salt
Crispy Shrimp
2 Tablespoons olive oil;to grease the pan
1 1/4 lbs shrimp, peeled and deveined
3 garlic cloves, minced
3 Tablespoons yellow cornmeal
2 teaspoons all purpose flour
1/2 teaspoon salt
1/4 teaspoon ground red pepper
Baguettes or submarine buns (for 4)
lettuce
tomato, sliced
Directions
Coleslaw
In a small bowl, combine the chopped onion, relish, mustard, mayonnaise, vinegar and salt.
Pour over the coleslaw, toss to coat and set aside in the refrigerator.
Shrimp
Preheat oven to 450 degrees F.
Line a baking sheet with parchment paper and grease with olive oil.
Combine the shrimp and garlic in a large zip-top bag; shake to coat.
Combine cornmeal, flour, salt and ground red pepper in in a medium bowl. Add to shrimp and shake until the shrimps are well coated.
Place the prepared empty baking sheet in oven for 3 minutes or until very hot.
Carefully, so you do not burn yourself, arrange the coated shrimp on pan in a single layer.
Bake for 3 minutes; turn and bake an additional 1 minute or until the shrimp are baked to a crispy golden brown.
Remove from the oven.
Assembly
Spoon slaw mixture evenly over the bottom halves of rolls, place lettuce and tomato slices, top each with shrimp, spread a little more coleslaw, cover with top halves of bread.