Porcupine Meatballs In Tomato Sauce Recipe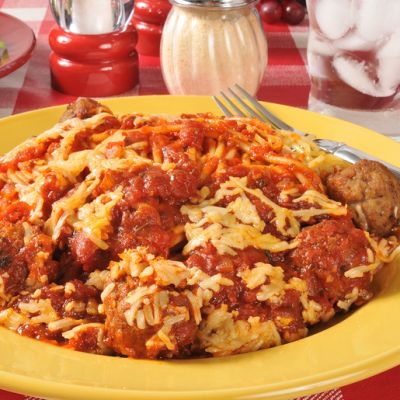 This porcupine meatballs recipe is made from a lean beef and rice mixture, and is baked in the oven with simple stewed tomato sauce. It is a simple to make tasty dish.
Ingredients
2 lbs lean ground beef
1 cup cooked white rice
1/2 cup finely chopped onion
1 egg
1/2 teaspoon salt
1/2 teaspoon freshly grated pepper
1 14.5 oz can stewed tomatoes
1 6 oz tomato paste
1 cup finely grated cheddar cheese
(Makes about 30 meatballs)
Directions
Preheat oven to 350 degrees F.
Have ready a 9x13 oven proof glass dish or ceramic baking dish.
Cut the onion into small pieces, so that the pieces are not larger than a piece of cooked rice. You want them to blend into the meatballs and not be chunky.
In a large mixing bowl, stir together the meat, rice, finely chopped onion and egg. Season with salt and pepper.
Use your hands to squish and mix the mixture together.
Roll into 2 inch round meatballs.
Open the stewing tomatoes and the can of tomato paste and dump them into a bowl. Stir to combine.
Pour the sauce over the meatballs. Cover the baking dish with aluminum foil and place into the preheated oven.
Bake 45 minutes. Cut one meatball in half to determine if it is cooked all the way through. If there is any pink showing put back into the oven and bake longer.
When ready, transfer the porcupine meatballs to a serving dish and scatter the finely grated cheese on top.
Serve with a fresh green salad.