Pork Stir Fry Recipe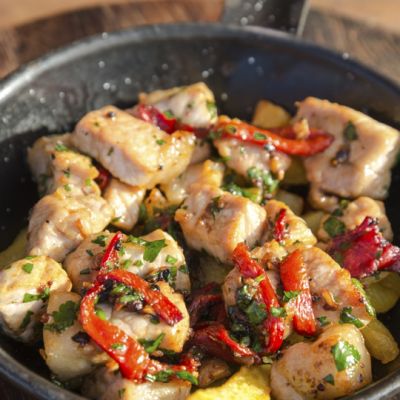 Whip up this pork stir fry in minutes and serve with rice or Chinese noodles.
Ingredients
Sauce
1/2 cup cider vinegar
1/2 cup packed brown sugar
1/2 cup ketchup
1/4 cup cornstarch
1/4 cup unsweetened pineapple juice
2 Tablespoons soy sauce
Pork
2 lbs lean boneless pork, cut into 3/4 inch cubes
1 egg, beaten
1/2 cup cornstarch
6 Tablespoons peanut oil
1 red bell pepper, seeded and cut into 1 inch squares
1 medium onion, finely chopped
2 Tablespoons chopped fresh parsley
salt and pepper to taste
Directions
Prepare sauce by mixing all ingredients together, and set aside.
Dip pork cubes in beaten egg, drain briefly, and roll in cornstarch to coat lightly.
Shake off excess.
Place a deep rounded skillet or a wok over high heat.
When skillet is hot, add 2 tablespoons of the oil and half of the pork.
Stir fry until evenly browned about 5 to 7 minutes.
Remove pork from skillet, and set aside.
Repeat to brown remaining meat, adding more oil as needed.
Add remaining oil (about 2 tablespoons) to skillet.
Add red peppers and onion, stir fry for 2 minutes.
Give the sweet and sour sauce a stir then add to the skillet.
Stir until sauce boils and thickens.
Return pork to the skillet and stir to coat and combine and to heat the meat through.
Serve piping hot.
Delicious served with rice or Chinese noodles.