Potato Chip Mac N Cheese Chicken Casserole Recipe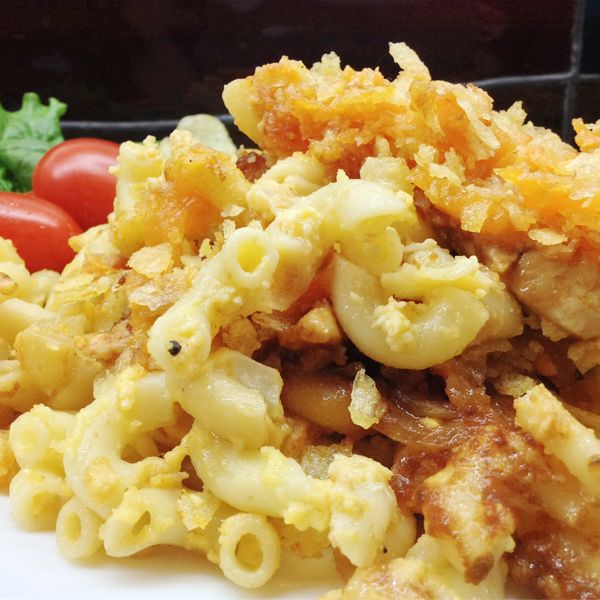 Crunchy and flavorful, this filling meal will leave the table praising your recipe for time to come.
Ingredients
2 cups uncooked macaroni
2 chicken breasts, cubed or sliced
1/4 small onion, diced
1 Tablespoon butter
1/2 cup barbecue sauce (homemade or storebought)
6 ounces, cheddar cheese, grated
1/8 cup white onion, diced
1 1/2 Tablespoons butter
1/2 Tablespoon all purpose flour
1 teaspoon dry mustard powder
1 bay leaf1 cup milk
1/3 cup cream
1/8 teaspoon cayenne pepper
salt and pepper to taste
1 cup whole plain potato chips (we used Miss Vickies Original)
Directions
Preheat oven to 375F.
In a large pot of boiling water, cook the pasta until al dente.
In a medium sauce pan, saute onions in butter until translucent
Add chicken pieces and cook until no longer pink inside.
Take off of heat and toss in a bowl with barbecue sauce.
While the pasta cooks, in a separate pot, melt the butter.
Whisk in the dry mustard powder and flour until there are no more lumps, and stir for 3 mintes on low heat.
Stir in the mlk, cream onions, bay leaf and chili cayenne pepper, and on a low simmer, continue to stir for 5 minutes.
In a separate bowl, scramble 1 egg.
Add 1/4 cup of the warm creamy sauce to the egg, mixing it in thoroughly.
Add the egg mixture to the cream sauce, blending well.
Add 3/4 of the grated cheese.
Add salt and pepper to taste.
Stir the cooked macaroni in with the creamy sauce, until well incorporated.
Transfer macaroni to a 1.5 quart casserole dish.
Top with sauteed barbecue chicken bits.
In a large bowl, crumble the potato chips into small pieces, and mix together with the remaining cheese.
Sprinkle macaroni with cheese and chip, cover with tinfoil and bake for 20 minutes.
Remove the foil and bake for another 5-10 minutes until browned.