Potato Omelet Recipe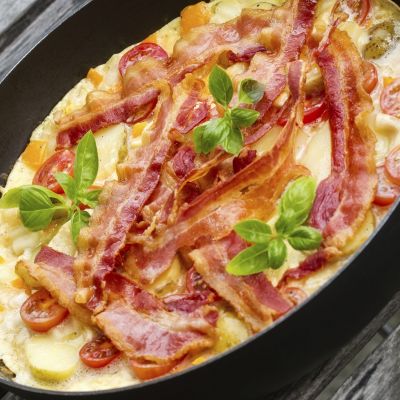 This potato omelet recipe is loaded with bacon and cheese.
Ingredients
6 eggs
1/4 cup whole milk
2-3 large Russet potatoes, boiled, peeled and cubed
1 Tablespoon olive oil
8 slices bacon, fried
6 baby red and orange tomatoes, cut in halves
olive oil
salt and pepper
1 cup grated cheddar cheese
Directions
Preheat oven to 450 degrees F.
Precook the bacon strips in a frying pan, and set aside.
We are also using potatoes that have been boiled, peeled and cubed ahead of time.
In a mixing bowl, beat the eggs with 1/4 cup milk.
In a medium, oven-proof frying pan, re-heat the potato cubes in the olive oil over medium heat, cooking about 3-5 minutes. Add the tomato halves and slightly heat.
Pour the egg and milk mixture over the potatoes and cook over until eggs are just almost cooked.
Remove frying pan from stovetop and sprinkle with grated cheese.
Place the frying pan into the preheated oven and broil for 5 minutes to set top.
Lay the cooked bacon strips on top.
Variation: Add any variation of vegetables or meats that you want, such as mushrooms, onions, sausage, etc.