Potato Salad With Bacon Recipe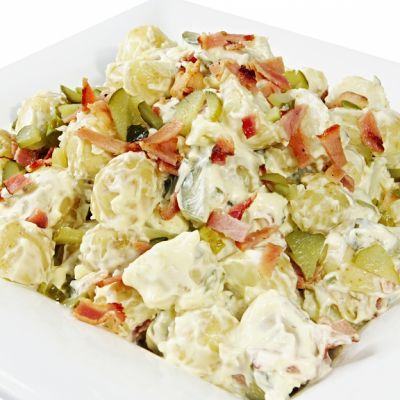 This potato salad with bacon is a tasty spin on a picnic classic.
Ingredients
500 grams potatoes, cut into 1/2 inch chunks
6 hard-boiled eggs, peeled and chopped into small pieces
8 slices bacon, fried and finely chopped
1 cup mayonnaise
1/2 cup Caesar salad dressing
1 Tablespoon dijon mustard
3 cloves garlic, minced
6 dill pickles, cut into small pieces
1 Tablespoon fresh lemon juice (or pickle juice from jar)
Directions
Boil potatoes in large pot for about 8 minutes, then drain.
In large bowl, mix together potatoes, eggs, bacon, mayonnaise, Caesar dressing, mustard, garlic, pickles, and lemon juice.
Cover and chill until ready to serve.